Dr. Peter Janssen, MS, DVM

Dr. Janssen was born and raised right here in Wisconsin. He attended UW-Madison, earning a Bachelor's Degree in Zoology, a Masters Degree in Environmental Toxicology and, of course, a Doctorate Degree in Veterinary Medicine. He has been practicing veterinary medicine since 1988 and opened the Janssen Clinic for Animals in 1990. In October 2006, he was named Veterinarian of the Year at the annual WVTA convention, an honor that he is humbled by.
Many pets have been part of his life including dogs, cats, rabbits, hamsters, turtles, an alligator, a hermit crab and a hedgehog. He enjoys spending time with his wife, Audrey (our office manager) and three children, Dana, Ava, and Peter. Dr. Janssen is thankful for all the wonderful clients and patients that he has had the privilege to know, and looks forward to each day at the clinic!
---
Anna, Certified Veterinary Technician
Anna graduated from MATC as a Certified Veterinary Technician in 2008. Anna started at Janssen Clinic for Animals in November of 2019 and she loves working with all the pets and clients here at the clinic. Anna enjoys the interactions with the pets and their human family.
Outside of Janssen Clinic for Animals, Anna lives with her husband and two children in Roxbury. They share a home with two German Shepherds, a lab mix, and an assortment of cats. Anna likes to relax with puzzles and a good book as well as spending time gardening.
______________________________________________________________________________________________________________________
Deborah, Veterinary Assistant
Deborah graduated from UW-Madison in the spring of 2020 with a Bachelor's in Animal Sciences and French. Since joining the team at Janssen Clinic for Animals that May, she has loved being able to interact with all the clients and pets as well as seeing the different surgeries that Dr. Janssen performs. Deborah is currently attending UW-Madison's School of Veterinary Medicine to earn her DVM and is expected to graduate in the spring of 2026.

When she isn't working, Deborah likes exploring coffee shops around the area, traveling, and spending time with her cockatiel, Pika.
______________________________________________________________________________________________________________________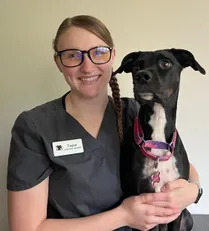 Taylor, Veterinary Assistant
Taylor graduated from UW- Madison in Spring 2021 with a Bachelor's Degree in Biology focused on plants and animals. After traveling for a year, Taylor joined the JCA team in August 2022. At the clinic, Taylor enjoys meeting new clients and the assortment of animals and breeds.
In her free time Taylor enjoys being outside, working on her new house and visiting family. Most weekends she can be found up north enjoying the woods with her hound mix and springer mix.
---
Audrey, Office Manager
Behind the scenes most of the time, Audrey keeps the food ordered, the schedule up to date, and the forms revised. With a talent for organization, Audrey brings a wealth of experience and energy to the clinic. She is a UW alumni and holds a Masters Degree in management from Cardinal Stritch College.
Audrey has had many pets in her life including lambs, dogs, cats and a horse.
_______________________________________________________________________________________________________________________